What is Bistable Electronic Paper (Ch-LCD E-Paper)?
(Summary description)
What is Bistable Electronic Paper (Ch-LCD E-Paper)?
(Summary description)
What is Bistable Electronic Paper (Ch-LCD E-Paper)?
What is Bistable Electronic Paper (Ch-LCD E-Paper)?
Cholesteric Liquid Crystal Display Technology (Ch-LCD):
The research and development institutions of this technology include companies such as Kent Display in the United States, Fujitsu in Japan, Fuji Xerox in Japan, and the Industrial Technology Research Institute in Taiwan, China. Cholesteric liquid crystal is a special liquid crystal mode with helical arrangement. It is achieved by adding an optically active agent to the nematic liquid crystal to achieve a special arrangement structure, and uses the "reflection" and "transmission" of cholesteric liquid crystal molecules at different potentials. Two different polarized light rotation states to achieve the display effect. Cholesteric liquid crystal is a reflective display, which uses the external ambient light source to display images without a backlight, and has bistable characteristics, so the cholesteric liquid crystal display technology is also very power-saving. At the same time, this technology can mix red, green, blue and other colors by adding optical active agents with different rotation pitches to meet the needs of color display
Ch-LCD is a purely reflective display that does not require the polarizers of ordinary LCDs. The reflectivity of Ch-LCD can be close to that of paper (70%), far exceeding other LCDs on the market, and can provide lower power consumption and better images than conventional LCDs.
It has the following advantages:
1. Environmental protection and energy saving, with a unique bistable memory function, the image can be permanently stored without power consumption, and portable electronic products can enjoy longer battery life.
2. Reflected light intensity, not afraid of light scouring, high-quality images, high-quality images with high contrast and brightness under direct sunlight, and can be used in strong light.
3. Wide viewing angle, the viewing angle of Ch-LCD is very wide, users can watch from any angle, and the background color is elegant and soft.
Products are widely used in the display of electronic information: offices, public transport facilities, exhibition centers, hospitals, catering and entertainment venues, securities, bank exchange rates, GPS handheld devices and e-books, etc.
Bistability is a unique display technology because it does not require electricity to drive the display. Power is only required to update the image; the image can remain displayed without power. There is no need for polarizers or backlights, etc., so it can be viewed from any angle, and the display can be made thinner and lighter. These characteristics make it very suitable for electronic signs, electronic price tags, electronic books and mobile storage devices and other applications that do not require frequent updates.
The manufacturing method of the cholesteric liquid crystal display (Ch-LCD) is a roll-to-roll (Roll-to-Roll) process, with fast production speed, simple panel structure design, low cost production, and almost unlimited length of the panel.

Main features:
High resolution (VGA, SVGA, XVGA and higher)
Extremely wide viewing angle (close to 180°)
Wide range of operating temperature
Excellent daylight readability
rich color combination
Zero power consumption
We also provide a new BCD front lighting solution, with white LEDs and special light guide plates, to solve the problem of insufficient external light in dark environments with extremely low power consumption. This technology enables the BCD display to be used at night, so that it can be used in more fields.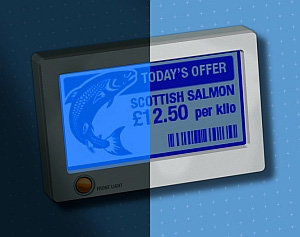 Scan the QR code to read on your phone